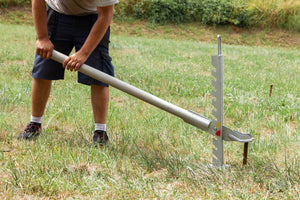 How do you actually get the ground anchors out of the ground again?
You ask yourself this question when you work with pegs for the first time. Hitting the ground with a hammer or motor hammer is relatively easy to understand. But how should the anchors, which are now partially rusted, be pulled out?
There are different possibilities. On the one hand, leverage can be used: the universal ground anchor puller is available for this purpose. Universal because it is suitable for ground anchors with a diameter of 25 - 40mm. Even pegs that have been driven into the ground up to the head can be easily levered out. If you have a forklift or Manitu, it's even easier: A round sling can be guided through the ring nut on our pull-out oarlocks. The round sling can then be attached to the fork arms of the vehicle and the anchors can be pulled vertically out of the ground.
---