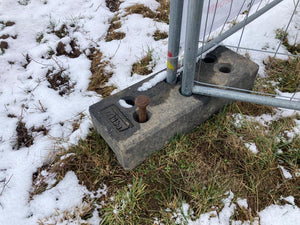 Secure site fences against wind and snow
Construction fences without a tarpaulin offer a relatively small area exposed to the wind. However, if wind is attached to a site fence with mesh or tarpaulin banners, the areas exposed to the wind are significantly increased. Even if a triangle is placed for stabilization, it is possible that the site fences will be moved. A ground anchor in each construction fence can be a quick and easy solution for fastening the construction fence. After a construction fence has a certain height and the head should not slip through the stone, we recommend our tent nails type FK or the standard ground anchor, type 050 .
If you want to secure a free-standing site fence, you should avoid bending the site fence with too large a lever. We therefore recommend four small ground anchors, from which tension belts are stretched to the tips of the site fence. You can find a couple of matching sets in the accessories category in our Erdnagel online shop.
If you are looking for a long-term support for site fences, there is a site fence support available in specialist shops, which you can then easily fix with the double-headed anchor.
---